Customer ratings for 240 LTR New Wheelie Bin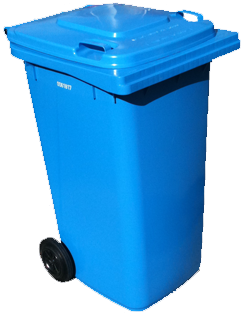 * Price inclusive of GST
Number of ratings: 17
Average rating: 4.8
Meets our requirements on all levels.
from Anonymous on 19/08/2013
Have never had any issues buying this product, will continue to do so into the future. Quality & lead times have always been met.
Thanks JWB.
meets our needs well.
from Anonymous on 19/09/2013
I have never had any problems with any JWB products & have been using them as a convenient supplier for over 2 years.
Excellent
from Anonymous on 5/03/2014
Excellent
Friendly staff with good communication very easy to assemble wheelie bins and lead time from order to delivery was excellent

Cheers
Excellent
from Anonymous on 14/05/2014
Strong, sturdy, just what we needed. Colours were great, easy to assemble. Quick and efficient ordering and prompt delivery
excellent
from Anonymous on 23/06/2014
absolutely fantastic service.Bins delivered in record time and to the address supplied .These will be the only people we,ll be dealing with in the future.
very good
from Anonymous on 12/09/2014
Product Is Great
from Anonymous on 22/09/2014
Have purchased from you previously, found your services very good on previous occasions.
This time I am not impressed with, lack of response both on returning telephone calls and also email response, time of delivery - very dissapointed, was expecting 3-4 days, this delivery took 2 weeks.
very
from Anonymous on 7/10/2014
all good
excellent
from Anonymous on 10/11/2014
Very good
from Anonymous on 11/12/2014
Very good. Easy to put together. Good delivery. A+